Evidence
Use ProvePrivacy to map data processing activities through our activity workflow and identify any gaps in your controls.
Escalation
ProvePrivacy identifies and escalates risks automatically to help you to build a distributed data compliance action plan.
Expertise
Data Protection professionals from our Partner network have the expertise to support you when you need it.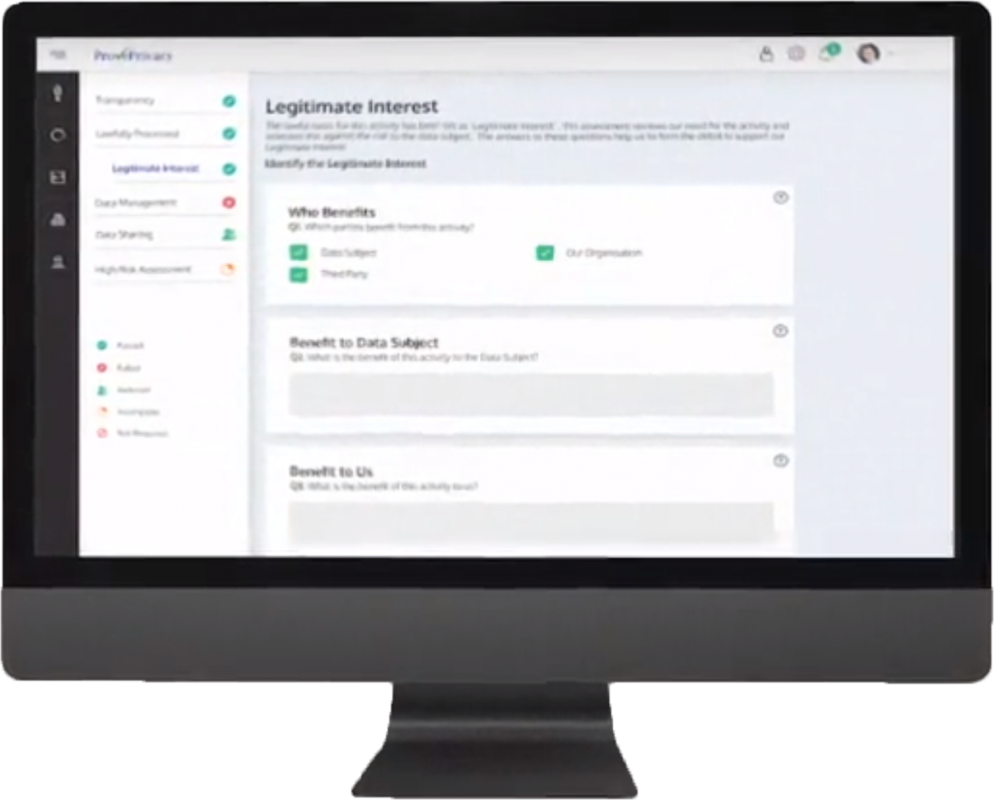 Feature Rich Solutions
Record of Processing Activities
Get your record of processing activities under control and liberate your business form the mess of spreadsheets, bring compliance into a single system.
Assisted Assessments
High risk, legitimate interest or data protection impact assessments, colleagues are assisted in defining risks, meaning you can be assured risk is managed.
Supplier Management
Data processor contracts, third country transfers and security assessments help you to ensure data is shared lawfully and safely.
Learn more about how we help you and our exciting roadmap of future developments as we become more than just a GDPR solution.
read more
Training
GDPR awareness built in
ProvePrivacy has GDPR awareness training built in.
Plain speaking, east to understand help text.
ProvePrivacy includes the CPD certified GDPR online awareness course as provided by knowledgezone.co.uk
For more training options click below.
read more
Advice & Assistance
Support when it is required
We have developed ProvePrivacy through our consultancy experience so we understand the value of having someone to turn to when you need advice.
Our service is supported by a network of partners, experienced in providing data protection advice.
For more details click below.
read more
ABout us
Tried & Tested
The ProvePrivacy story started in 2017, born out of the obvious need for something better than Excel spreadsheets to demonstrate GDPR compliance. Our data mapping workflows originate from years of consulting experience and our assisted assessments from managing real world risk.